Spruce Up Your Home for Spring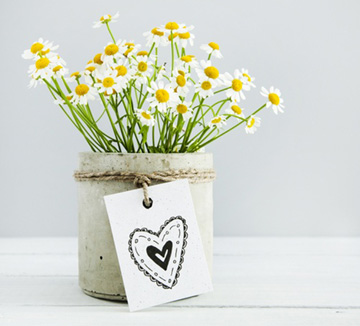 Spring is finally here! If you're ready to shed those winter blues, start by giving your home a spring refresher. By doing a little spring cleaning, updating your décor, and getting your outdoor space in order, you'll be ready to welcome those warmer and longer spring days ahead. Here are some of the best tips we've found to spruce up your home for spring.
Air it out
When was the last time you opened your windows? Chances are it's been months since you've had any real fresh air in your home. Choose a day where the temperatures will be moderate and open your windows to let in the cool breeze. It will recharge all the stale air in your home, remove dust, and even help to inhibit the growth of mold. It's good for your health!
Clean up the fireplace
If you have a wood-burning fireplace, then it's time to put it to rest for the season. Clean up the ash and close the damper. You might even consider having it professionally cleaned now instead of in the fall. Your chimney sweep will be less busy and you may even get a break on the price.
Add some plants
While it may not be quite warm enough yet to get outside and tend to your garden, you can bring nature inside. Add some fresh decorative touches to you home with houseplants, forced bulbs, or cut flowers. Plants and flowers will help to clean the air and make your home smell fresh.
Change out linens
Now that the days are getting longer, you'll want to let some of that lovely sunshine in. Change out heavy winter drapes with lighter versions for spring. It's also time to switch out your bedding for lighter sheets and blankets for warm weather. Now is the perfect time to clean and rotate your mattress as well.
Update your entryway
Your home's exterior provides the first impression to visitors or potential buyers. Make your home stand out in a positive way by getting the entryway ready for spring. On the outside, consider painting your front door a distinctive color and decorate with a tasteful spring wreath. Once the weather is warm enough, you can add some pots of spring flowers on your stoop next to the door and switch out your doormat. Inside, empty the coat closet of your winter jackets and shoes and make room for lighter spring jackets.
Use pops of color
One of the best ways to embrace the spring season is to add some pops of color around your home. You can do this very simply with the addition of colorful pillows and throw blankets. Think about ways to use what you already have – whether it's a colorful vase full of spring flowers or a stack of books with vibrant colors on the coffee table.
Set your table
Finally, set the tone by setting your table with some pretty spring place-mats and napkins. Add some lightly scented candles and a colorful table runner. Then, invite friends and family over to help you celebrate the coming of the spring season!
What Others Are Saying