10-Minute Home Projects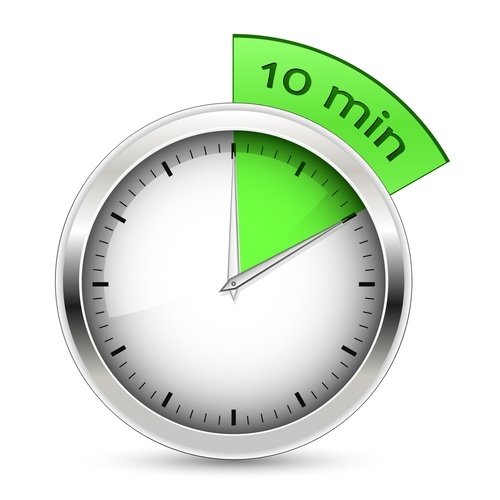 You're probably familiar with the idea that little things add up to a lot. But did you ever stop to think about how that can be applied to the upkeep of your home?
Homeowners know that one of the responsibilities of ownership is keeping up with regular maintenance and repairs. While it may sometimes feel overwhelming, there are simple, ten-minute projects that you can do that will make a huge difference in your quality of life at home. Fit them in between episodes of your favorite Netflix binge, and you'll feel like you're hardly putting in any effort at all. Here are some of the easiest projects to get you started.
Easy home repair projects
Sometimes it isn't worth calling a handyman or your brother-in-law to come over and help. These are easy fixes you can complete by yourself in ten minutes or less:
Fix a squeaky door – If you're tired of the squeaky kitchen door alerting your spouse to your midnight snack attacks, spray some WD-40 on the hinges and open and close the door a few times to work it in. You can also try petroleum jelly.
Sticky windows – Don't let a hard-to-open window keep you from enjoying a nice summer breeze. Spray silicone lubricant (found at home improvement stores) onto a rag and wipe into the track of a plastic, wood or metal window frame. Dry lubricants like PTFE spray can be used on a vinyl window.
Silence a squeaky floor – While it's not a permanent fix, sprinkling talcum powder into the cracks between floorboards will help to temporarily silence those noisy floors.
Replace a broken toilet lever – First pop open the back to make sure the chain is still attached. If it's broken, buy a replacement toilet lever kit. Don't let these instructions worry you – it's very simple and with the exception of going to the store to get the kit, it won't take you more than ten minutes.
Easy home maintenance projects
If you want to avoid costly repairs due to negligence, it's important to keep up with regular home maintenance chores. The following projects are so simple you have no excuse to put them off:
Change the filters on your air conditioning unit and furnace to keep them running smoothly, especially in summer and winter.
Replace batteries in smoke detectors once a year.
Clean lint from your dryer exhaust with a long, flexible brush or a vacuum hose attachment.
Vacuum the coils on your refrigerator once a year.
Flush the garbage disposal in your sink once a month with a mixture of baking soda and hot water.
Test your garage door opener regularly to make sure that it reverses automatically if there is an obstruction.
Clean the filter on your stove's range hood. It can get quite greasy, but cleaning it is easy.
Keeping up with the small tasks around your home will go a long way towards making sure everything stays in good working order. And when it comes time to sell, you'll have much less to worry about. So hit the "pause" button on the remote and take ten minutes to complete one of these easy tasks. You'll be glad you did!
Compliments of Virtual Results
What Others Are Saying